Toronto Mayor John Tory has admitted that he had an affair with a staffer, and will step down as the mayor of the largest city in Canada.
On Friday night, Tory spoke to reporters at Toronto city hall, and confessed he had a relationship with a staff member "in a way that did not meet the standards to which I hold myself as mayor and as a family man."
"I recognize that permitting this relationship to develop was a serious error in judgement on my part," Tory said.
"I'm deeply sorry, and I apologize unreservedly to the people of Toronto and all those hurt by my actions."
"Most of all I apologize to my wife Barb and my family, who I've let down, more than anyone else."
The relationship ended by "mutual consent" earlier this year. The employee, Tory said, left the city "some time ago" and now works elsewhere.
"As a result, I've decided that I will step down as mayor so that I can take the time to reflect on my mistakes and to do the work to rebuild the trust of my family," said Tory.
The story, first reported by the Toronto Star, represents the end of a lengthy political career. Tory took over as mayor in 2014 — following the tumultuous and scandalous years of the late Rob Ford's mayorship — and played the straight man to Ford's wise guy.
Jennifer Keesmaat, the former city planner for Toronto and his opponent in the 2018 election, tweeted "This is a lot to process" on Friday night.
This is a lot to process.

— Jennifer Keesmaat (@jen_keesmaat) February 11, 2023
"Like this city did not have enough going on," she continued with another tweet.
Like this city did not have enough going on.

— Jennifer Keesmaat (@jen_keesmaat) February 11, 2023
The Ford years, as the National Post described them at the time, were a "public circus act," and Tory was seen as a be-suited, respectable alternative.
"While I deeply regret having to step away from a job that I love, in a city I love even more, I believe in my heart it is best to fully commit myself to the work that is required to repair these most important relationships," Tory said late Friday.
The resignation raises a number of questions about the future of the city. Council is to meet next Wednesday to discuss the 2023 budget; as well, Tory was mayor during a major revamp of mayoral powers in Ontario, and his resignation raises questions about who will replace him, and indeed, what that person's relationship to Queen's Park will be in the weeks and months ahead.
Tory, who arrived at the hastily called press conference wearing sneakers, dark trousers and a dark suit jacket, with a blue, patterned tie, said he had asked the city's integrity commissioner to review the relationship.
Tory has been married to Barbara Hackett since 1978, after the two met while studying at York University, where Tory received a law degree. They met, according to a 2018 Toronto Star story, in French class.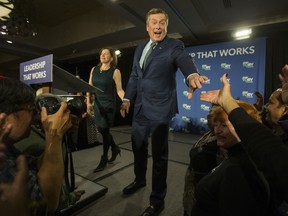 The secret to a successful marriage, Tory said at the time — his 40th wedding anniversary — was respect.
"You can talk about love and romance and all the laughter and fun, but you have to respect each other," he told the Star.
Tory said Friday that the affair happened during the pandemic when he and his wife were spending much time apart. The two have four children and several grandchildren.
Prior to becoming mayor of Toronto, Tory served in provincial politics as the leader of the Progressive Conservative party between 2004 and 2009. He also held a number of positions with Rogers, the media company, between 1995 and 2003.

Between 1995 and 1999, Tory was president and CEO of Rogers Media; in 1999 he became president and CEO of Rogers Cable. This relationship has been the source of some controversy in his time as mayor, including a recent conflict of interest investigation.

In those years, he also served as the ninth commissioner of the Canadian Football League and served as volunteer chairman of the league, according to an archived biography on the Progressive Conservative party's website.

When he became mayor in 2014, Tory was the first mayor in more than a century to become mayor without having previously served as a city councillor. To become mayor, Tory defeated Rob Ford's brother, Doug Ford, who's now premier of Ontario. Rob Ford, having been diagnosed with cancer, dropped out of the mayoral race.
Tory, who declined to take questions from reporters, requested privacy for himself and his family.Tory isn't the first mayor to have confessed an affair while in office. In 2000, mayor Mel Lastman, who died in 2021, admitted that he'd had a 14 year affair with Grace Louie, an employee at his furniture store.While that affair ended in the 1970s, Lastman was sued for child support by Louie; the case was tossed out, as she'd waited decades to file it, The Canadian Press reported.